That Yank In ...





South Wales and the Borders, August 2000



From August 6 through 12, 2000, we played "find the castle" in South and West Wales. We essentially saw a castle (or ruin) a day, but, if we had wanted to, we could have seen many more. South Wales is literally crawling with castles in all states of repair and disrepair!

We stayed at the Parva Farmhouse Hotel and Restaurant in Tintern, near Chepstow, on the Wye River.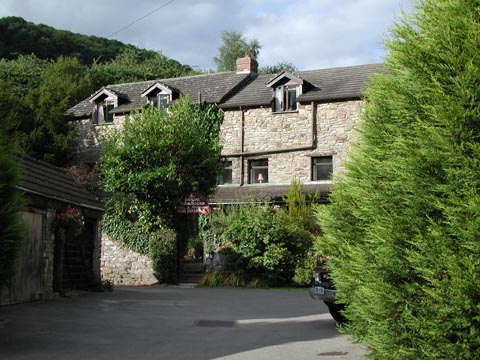 Click on the picture for a link to more information about the hotel.
Great Castles & Historic Attractions in South Wales
(Cestyll Mawr ac Atyniadau Hanesyddol yn Ne a Gorllewin Cymru)



ABOVE: Cilgerran Castle (Castell Cilgerran) is atop a wooded gorge in the Teifi Valley, near Cardigan. One of Wales' first tourist attractions, it was built in the 13th century.


BELOW: Tintern Abbey (Abaty Tyndryn) was built for the Cistercian monks in 1131, and rebuilt by Roger Bigod in the late 13th century, but fell victim to Henry VIII's reformation of the church. An historical play and light show was put on within the ruins of the abbey for the Millenium.

ABOVE: Caerphilly Castle (Castell Caerffili) occupies 30 acres in the center of the town of Caerphiilly, near Cardiff. It is a 13th century Norman keep, complete with a moat, built by Gilbert de Clare.

BELOW: Raglan Castle (Castell Raghlan) was begun in 1435 by Sir William ap Thomas and was improved upon by his son, William Herbet, becoming a showcase of craftsmanship and luxury. It withstood a siege in the Civil War and was dynamited for its resistance.




ABOVE: Skenfrith Castle (Castell Ynysgynwraidd) is one of a group of castles called The Three Castles. It is more of a ruin than the others shown here, and while protected by "Heritage in Wales", is the only one of the castles shown here without an admission fee, tourist brochure, or descriptive booklet. It too is located near Abergavenny.

Click on any picture on this page, and be taken to a more detailed description of the castle/ruin and its history.

ABOVE: The White Castle (Castell Gwyn) was so called because its outer walls were a gleaming white from a distance. It is one of a series of castles very near each other in the vicinity of Abergavenny.
...and One Great Castle in England!

Goodrich Castle is another Norman keep on the River Wye, but this castle is on the English side of the border. Begun in the 12th century, major modifications were made in the 13th and 15th centuries, but the castle was essentially unoccupied by the 16th century. This castle is under the protection of English Heritage.

Click here to learn more about "English Heritage"